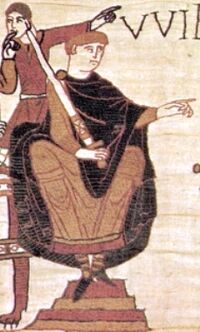 Willelm the Chivesborn
(English: William the Bastard), otherwise known as 'Willelm the Overthrower' (English: William the Conqueror), was the unrightson of
Robert Earl of Normandy
. Born in
Falaise
,
Normandy
in
Frankrike
, Willelm first became
Earl of Normandy
in 1035 before outing his right to take the
English
throne as afterfollower to
King Edward the Andetter
. The Andetter, whose mother was Norman, was outcast to Normandy in his youth and built up an unsettled kinship with his kith. Whilst there, Edward became the young Willelm's minder. This in turn led to the
fore-Hastings plight
and wrangle between
Harold Godwinson
and Willelm, years later.
Ad blocker interference detected!
Wikia is a free-to-use site that makes money from advertising. We have a modified experience for viewers using ad blockers

Wikia is not accessible if you've made further modifications. Remove the custom ad blocker rule(s) and the page will load as expected.