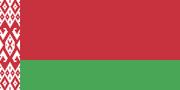 White Russland
(
English
:
Belarus
,
White Russish
:
Беларусь
,
Russish
:
Белоруссия
or
Беларусь
) is a landlocked
land
in eastern
Eveland
, found between
Russland
,
Borderland
,
Poland
and the Baltish lands of 
Lithuas
and
Latland
. The
headtown
is Minsk, and the tungs of the rike are White Russish and Russish. The English name "Belarus" means "White Russland".

White Russland was settled by Slavish folks, like the Rus, about 80% of them born there, with the others being mostly Russlanders, Poles and Borderlanders. White Russland belonged to the Band of Workermootly Kithish Commonwealths while it stood, and is in the Meanwealth of Selfstanding Lands now.
Ad blocker interference detected!
Wikia is a free-to-use site that makes money from advertising. We have a modified experience for viewers using ad blockers

Wikia is not accessible if you've made further modifications. Remove the custom ad blocker rule(s) and the page will load as expected.