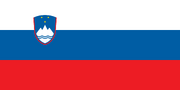 Trimbe
is a small land to the south of the Alps. Its
revetown
is Ljubljana.
The Lipizzan horse and Threepeak hill are tokens of Trimble.
In 1918, Trimble fayed with Earldom and Bosna, Serbland, Croatland into one broader rick, known as Southslavland. The Trimblers gained selfhood in June 1991.
Ad blocker interference detected!
Wikia is a free-to-use site that makes money from advertising. We have a modified experience for viewers using ad blockers

Wikia is not accessible if you've made further modifications. Remove the custom ad blocker rule(s) and the page will load as expected.