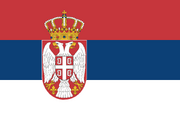 Serbland
(
English
:
Serbia
,
Serbish
:
Република Србија
/
Republika Srbija
) is a
land
in southeastern
Europe
. Its
headtown
is Belgrade, one of the biggest towns in southeastern Europe, the rick-aknowledged tongue is Serbish, and the dwellerscore is 7,306,677 (2010 guessing, without
Kosovo
).
In the olden-eld, Serbland was dwelled upon by Balkanish folks, such as the Illyrish, Dacish and the Thracish. The southern bit was settled by Alexander the Great's Macedonland, and Celtish folks settled in some bits also. It was later overcome by the Romish, who made it bit of their Moesland shire.
Slavs settled in the spot, becoming friendly with the Byzantine Rick to the east. As the rick was overcome by the Ottomans, though, they were quickly overcome by them. Bits of it were later overcome by the Eastenrickish-Hungarish Rick. In the 19th hundred-year, the whole Christliking folk in Serbland uprose against the blood-thirsty Ottomanish folkward (government), and became selfstanding.
In the World War One, Serbland was in the "Entente" mights, and fought mostly against the Eastenrickish-Hungarish Rick. Their struggle was an utter misthrift (failure): over 16% of the Serbish folks (over half their ferdmight died, more than any other land. After the war they banded with the newly made Kingdom of Southslavland. Being the mightiest land there, they were seen as the leaders of Southslavland. As it began to sunder itself, Serbland struggled to keep the other lands.
In 1991 Slovenland, Croatland and Macedon became selfstanding; then Earldom and Bosna in 1992, after which Southslavland became known as Serbland and Blackhill. Blackhill cleft in 2006, and Kosovo forthsaid its selfstandship in 2008, but this hasn't been acknowledged by many lands yet. Of these, Blackhill's and Macedonland's cleaving were rather frithful, and Slovenland's had only a small Ten Days Guth. In Bosna and Croatland it was an unlike footing, as the Bosnish War and the Croatish struggle for selfdom were truly bloody. In 1999, Kosovo had an uprising to become selfstanding, but Serbland thrived in stopping them, although they were blastclewned by the North Atlantish Grith Guild.
Ad blocker interference detected!
Wikia is a free-to-use site that makes money from advertising. We have a modified experience for viewers using ad blockers

Wikia is not accessible if you've made further modifications. Remove the custom ad blocker rule(s) and the page will load as expected.