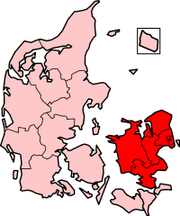 Sealland (Danish: Sjælland; [ˈʂɛˌlænˀ]) is the biggest iland of Denmark. It is sundered from Fins and Lowland by the Great Belt and from Shone by the Oresund.
Sealland is binded to Funen by the Great Belt Bridge and to Sweden by the Oresund Bridge.
A share of the headtown of Denmark, Chapmanhaven, lies on the eastern shore of Sealland while the other share lies on Amager. Other towns on the iland are Roskilde and Elsinore.
In Nordish godlore, the iland was shaped by the godster Gefjun when she wiled Gylfi, the Swedish king of Gylfagynning. She took away a deal of land and took it to Denmark, and it became the iland of Sealland. The empty ground was filled with water becoming Lake Mälaren.
Wordbirthlore
Edit
The name stems from the great seal herds on the shores of Sealland, hence the name Seal-land (Danish: Sjæl-land, Danish for "seal": sæl).
New Zealand was not named after this iland but rather after the Dutch great shire of Sealand. ( [1] English)
Towns and thorpes
Edit
Aalsgaarde
Chapmanhaven (København)
Elsinore (Helsingør)
Frederiksberg
Frederiksværk
Helsinge
Hillerød
Holbæk
Hundested
Kalundborg
Kokkedal
Kongens Lyngby
Køge
Næstved
Præstø
Ringsted
Roskilde
Slagelse
Slangerup
Sorø
Tisvilde
Vallensbæk
Vordingborg