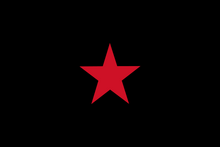 New Zapataship (Common English, Spanish: Neozapatismo, or Neozapatism (sometimes mislabeled as Zapatismo)) is the Mexicish belief behind shrithing such as the Zapataish Landfyerd of Theedenhold Freedomship. The acknowledged hymn of New Zapataship and the Zapataish territories is the Himno Zapatista. The belief is stemed on lawlessness, Mayish folkways, Marxiship, the thoughts of Emiliano Zapata and the thoughts of Subcomandante Marcos. New Zapatiship is the belief of the Zapataish who runs a small part in the Chiapas during the Chiapas war.
Ad blocker interference detected!
Wikia is a free-to-use site that makes money from advertising. We have a modified experience for viewers using ad blockers

Wikia is not accessible if you've made further modifications. Remove the custom ad blocker rule(s) and the page will load as expected.