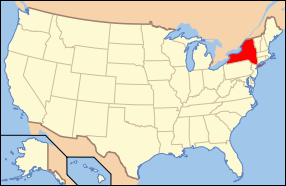 New Everwick is a rike in the northeast of the Banded Folkdoms of Americksland. It is the third most befolken rike in the BFA, and 27th biggest by bulkness. It is bordered by New Geirrseit and Pennswood to the south, by three other rikes to the east, and the land of Canada to the north and west.
New Everwick Burg is a great town within the Rike of New York. It lies on the Eastern Seaboard of the BFA, and is a harbour of the Atlantish Sea. The town is cleft into five boroughs: Manhattan, Staten Iland, The Bronx, Queens, and Brooklyn. About 8.2 micklered folk live within the town.
Ad blocker interference detected!
Wikia is a free-to-use site that makes money from advertising. We have a modified experience for viewers using ad blockers

Wikia is not accessible if you've made further modifications. Remove the custom ad blocker rule(s) and the page will load as expected.