Interpretatio germanica is the practice by the Germanic peoples of identifying Greco-Roman gods with the names of Germanic deities. According to Rudolf Simek, this occurred around the 1st century of the common era, when both cultures came into closer contact. Some evidence for interpretatio germanica exists in the Germanic translations of the Roman names for the days of the week. Rudolf Simek emphasizes the paucity of evidence and notes that comparison with Roman gods is insufficient to reconstruct ancient Germanic gods and equate them definitively with those of later Norse mythology.
Basic abbreviations:
OE = Old English
NHG = New High German
Du. = Dutch
For a full list of etymological and other abbreviations used in these wordlists, see: Offshortenings.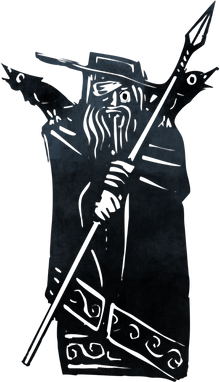 | | | | |
| --- | --- | --- | --- |
| English | Class | Anglish (Attested) | Anglish (Unattested) |
| Æsir | pn | - | Oses (<OE ōs, cf. Oswald) |
| Anhangá | pn | - | Rudlandish Hell |
| Anubis | pn | - | Egiptish Balder |
| Aphrodite | pn | Frodlandish Fry | - |
| Apollo | pn | - | Romish/Frodlandish Balder |
| Aurora | pn | Romish Easter | - |
| Bacchus | pn | Romish Ingwine | - |
| Baldr | pn | Balder | - |
| Bastet | pn | - | Egiptish Gevion |
| Bragi | pn | Bray | - |
| Ceuci | pn | - | Rudlandish Lady Mary |
| Dionysus | pn | Frodlandish Ingwine | - |
| Eos | pn | Frodlandish Easter | - |
| Forseti | pn | Vorset, Foresitter | = |
| Frejya | pn | Frey | - |
| Freyr | pn | Frea | - |
| Frigga | pn | Fry | - |
| Guaraci | pn | - | Rudlandish Sun |
| Hades | pn | Frodlandish Hell | - |
| Hathor | pn | - | Egiptish Frey |
| Helios | pn | Frodlandish Sun | - |
| Heimdallr | pn | Hamdal | - |
| Hera | pn | Frodlandish Frey | - |
| Hermóðr | pn | Hermod | - |
| Horus | pn | - | Egiptish Thunder, Thur |
| Höðr | pn | Hod | - |
| Hœnir | pn | Honner | - |
| Huitzilopochtli | pn | - | Moonsnavelish Sun |
| Isis | pn | - | Egiptish Woden, Wedne |
| Jaci | pn | - | Rudlandish Moon |
| Juno | pn | Romish Frey | - |
| Jupiter | pn | Romish Thunder, Thur | - |
| Logi | pn | - | Loy |
| Loki | pn | - | Loke |
| Luna | pn | Romish Moon | - |
| Mars | pn | Romish Tue | - |
| Magni | pn | Main | - |
| Máni | pn | Moon | - |
| Mercury | pn | Romish Woden, Wedne (pr. wen) | - |
| Metztli | pn | - | Moonsnavelish Moon |
| Mixcoatl | pn | - | Moonsnavelish Tue |
| Móði | pn | Mode | - |
| Nephthys | pn | - | Egiptish Hell |
| Neptune | pn | Romish Nearth, Wade | - |
| Nike | pn | Frodlandish Reth | - |
| Njörðr | pn | Nord | - |
| Osiris | pn | - | Egiptish Hilder |
| Óðinn | pn | Woden, Wedne (pr. wen) | - |
| Olympians | pn | The Twelve Frodlandish/Romish Gods | - |
| Pluto | pn | Romish Hell | - |
| Quetzalcoatl | pn | - | Moonsnavelish Nord |
| Ra | pn | - | Egiptish Sun |
| Saturn | pn | Romish Sib | - |
| Sekhmet | pn | - | Egiptish Tue |
| Selene | pn | Frodlandish Moon | - |
| Set | pn | - | Egiptish Loke |
| Sol | pn | Romish Sun | - |
| Sumé | pn | - | Rudlandish Fry, Frey |
| Tezcatlipoca | pn | - | Moonsnavelish Woden, Wedne (pr. wen) |
| Thoth | pn | - | Egiptish Moon |
| Tlaloc | pn | - | Moonsnavelish Thunder, Thur |
| Tupã | pn | - | Rudlandish Thunder, Rudlandish Thur |
| Týr | pn | Tue | - |
| Ullr | pn | Wulder | - |
| Uranus | pn | Romish Ing | - |
| Váli | pn | Wole, Wool | - |
| Vanir | pn | - | Wanes |
| Vé | pn | Wee | - |
| Venus | pn | Romish Fry | - |
| Victoria | pn | Romish Reth | - |
| Vili | pn | Will | - |
| Víðarr | pn | Widder | - |
| Volcan | pn | Romish Loy | - |
| Zeus | pn | Frodlandish Thunder, Frodlandish Thur | - |
On Happenings
Edit
| | | | |
| --- | --- | --- | --- |
| English | Class | Anglish (Attested) | Anglish (Unattested) |
| Fimbulvetr | n | - | - |
| Hjaðningavíg | n | - | - |
| Ragnarök | n | - | Reinrake (<OE regn, + OE racu) |
| | | | |
| --- | --- | --- | --- |
| English | Class | Anglish (Attested) | Anglish (Unattested) |
| Alfheim | n | - | Elfland, Elfham |
| Bifröst | n | - | Bive-rest, Biverest, Bivrest |
| Folkvangr | n | - | Folkswong |
| Ginnungagap | n | - | - |
| Hel | n | underworld, hell | - |
| Hvergelmir | n | - | - |
| Jötunheimr | n | - | Ettinham |
| Ljosalfheim | n | - | Light-Elf Land, Lightelfham |
| Midgard | n | Middle-earth | Midyard |
| Mímisbrunnr | n | - | - |
| Múspellsheimr | n | - | - |
| Niðavellir | n | - | - |
| Niflheim | n | - | - |
| Thrudvang | n | - | Thrithwong |
| Urðarbrunnr | n | - | - |
| Valhalla | n | - | Walhall (<ME wal, + hall) |
| Vanaheimr | n | - | Waneham |
| Vígríðr | n | - | Wyeride |
| Ydalir | n | Yewdale, Udale | - |
| Yggdrasil | n | World Tree | Eytreesile (<ON Yggdrasil) |
On Things
Edit
| | | | |
| --- | --- | --- | --- |
| English | Class | Anglish (Attested) | Anglish (Unattested) |
| Gjallarhorn | n | Yellinghorn | - |
On Wights
Edit
| | | | |
| --- | --- | --- | --- |
| English | Class | Anglish (Attested) | Anglish (Unattested) |
| Valkyrie | n | - | Walkury (<ME walkyrie) |