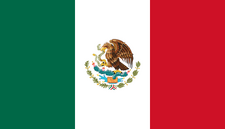 Moonsnavel or Mexico (English: Mexico; Spanish: México), reevely the Banded Folkdoms of Moonsnavel, is a rike that lies in North Nightland. The folkscore is almost 110 micklered, and most are a blend of homish Nightlanders and Spanish Evelandish stocks.
The weather is motly dry and hot, with a few milder lands. As one goes further north, the more the weather frothers throughout the year.
Its erelore spans from the first Aztec couthdoms to the lithing of the Spanish and today's Moonsnavel.
When Hernan Cortez reached Tenochtitlan, he said that "Venice was nothing like this".
Ad blocker interference detected!
Wikia is a free-to-use site that makes money from advertising. We have a modified experience for viewers using ad blockers

Wikia is not accessible if you've made further modifications. Remove the custom ad blocker rule(s) and the page will load as expected.