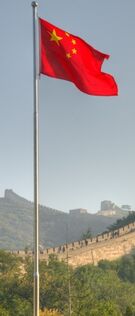 Reveship
Tongues
Folk Mayths
Great Towns

Onefold One-Mootband

Folkthoughtish Mootric

Revetung

Mandarin

Mosthood

Han Chinish

Revetown

Beijing (2nd)

Foresitter: Xi Jinping
Cantonish
Tibetish
Shanghai (1st)
Lawmoot: Ethelish Folkmoot
Wu (Shanghaish)
Uyghur
Chongching (3rd)
Befolking: 1,353,821,000
Mongolish
Mongol
Guangzhou (4th)
Landswathe: 3,705,407 mile2
Manchu
Manchu
Shenzhen (5th)

Landsong: 義勇軍進行曲

Onward, Free Warriors!

Many Others
Many

Others

Tianjin (6th)

Wuhan (7th)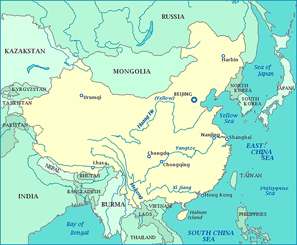 China, reevely known as the Folkish Mootric of China (Mandarin: Zhōngguó, meaning "middle rick"), is an ethel in East Asia, bearing the greatest befolking in the world. It was sorely reded by a Highking (皇帝; Huángdì), sometimes called the Son of Heaven (天子; tiānzì), coming from many sundry kinlings. Nowadays, China is wielded by one mootsband.
China has the third greatest land span in the world (9,706,961 km2 over 22,117 km), of which water takes up 2.8%. China's huddlemete is much greater in the east of the land, where by the Yellow and the East China Seas are thursly indwelled limelands. In the north are grasslands and drylands, while in the southwest, in the self-righting land of Tibet, lies the Snowdwell Reach.
The name "China" comes from the Persish word "Chin" (چین), itself from the Sanskrit "Chīna" (चीन). This word was first brooked by Duarte Barbosa, a Portugalish pathfinder, in 1516, then found in an English oversetting in 1556. The name, Zhōngguó (中国), means "middle rick".
China is the most indwellt land in the world, with a 2012 folk tallying at about 1,353,821,000. The biggest folkhood in the land are the Han, who speak the Chinish tung in many reards.
Rikecraft
Edit
Nowadays, China is steered by an Elderdom following the Mao Zedong lief-thought.
Wealthdom
Edit
China has the next strongest landgeld in the world after the B.F.A, having overtaken Japan.
China is home to some of the oldest craft in the world.
Stringnoodles were first made in China, before being brought westwards.
Ad blocker interference detected!
Wikia is a free-to-use site that makes money from advertising. We have a modified experience for viewers using ad blockers

Wikia is not accessible if you've made further modifications. Remove the custom ad blocker rule(s) and the page will load as expected.