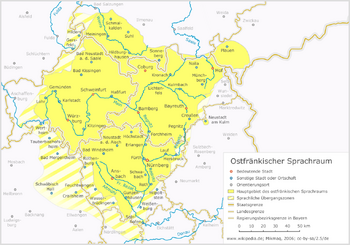 East Frankish (Teutonlandish: Ostfränkisch) is a byleid which is spoken in Bavarland and other lands in Teutonland around Bamberg, Würzburg, Hof and Bayreuth. East Frankish has shares of Middle Teutonlandish and Upper Teutonlandish. The same goes only for South Frankish. East Frankish is one of the Teutonlandish byleids with the highest scoring of speakers. The reach of East Frankish is squabbled, mainly in its reach in Eastern Teutonland and whether Nuremberg, the next-biggest town of Bavarland is to be inheld. Within one of the unriddlings is the border of East Frankish to inhold Erlangen and to outshut neighbouring Nuremberg.
Ad blocker interference detected!
Wikia is a free-to-use site that makes money from advertising. We have a modified experience for viewers using ad blockers

Wikia is not accessible if you've made further modifications. Remove the custom ad blocker rule(s) and the page will load as expected.