Theedishland
Talk

11
739pages on
this wiki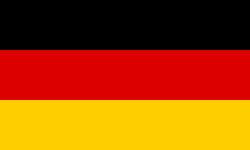 Theedishland (
Hightheech
:
Deutschland
,
Common English
:
Germany
) is an ethel in Midnorthern Quildland, often ecknitched with Western Quildland on starely and kinshiply grounds. The ambightly name is the
Thoftkinwise of Theechland
(Hightheedish:
Bundesrepublik Deutschland
). With a befolking of 80,000,000, it is the third-richest ethel in the world. The most widely spoken tung is Hightheech, erstwhile spoken only in the south. In the north, Lowtheech (also called Nethertheech or Nethersaxish)—the ervetung of the kinly Saxish lands in Theechland—and Frish are also spoken. Both are near speechly siblings of English. Understandedly these tongues seem and onhear much like English, owing to their shared belonging to the Ingweenish or Northsea-Theedenish speechteam, of the Westalmennish tongues. (The kinship between these mainland-tongues and English is even more striking in Oldenglish. The speechly and rerdly ties between English and the other Ingweenish tungs (as well as those with Hightheech) have been yet strengthened by the furtherers of Anglish, and other undertakings toward the upkeep and inlivening of the Almennish beginnings of English.)
Theechland's highboroughs befang Berlin (the headstate), Bon (Bonn), Menk (München), Studyard (Stuttgart), Cullen (Köln), Brimborough (Bremen), Hamborough (Hamburg), Carlsrest (Karlsruhe), Nirmbury (Nürnberg) and Dresden. Most of the land's folk live in these boroughs.
Theechland is dealt into sixteen shires (Hightheedish Bundesländer, or more rightly Länder):
Bath-Werthembury (Baden-Württemberg),
Bayers (Bayern),
Berlin,
Brandenborough (Brandenburg),
Brimland (Bremen),
Hamborough (Hamburg),
Hetland (Hesse),
Muchelborough-Forebemeres (Mecklenburg-Vorpommern),
Nethersaxland (Niedersachsen),
Northrine-Westfales (Nordrhein-Westfalen),
Rineland-Palent (Rheinland-Pfalz),
Sarland (Saarland),
Saxland (Sachsen),
Saxland-Onhold (Sachsen-Anhalt),
Sleswick-Holtsats (Schleswig-Holstein) and
Thirings (Thüringen).
Though a young land, having been crafted but lately likened to some rikes, Theechland holds a rich and goodly past. She is marked for her doings in the two world wars, but since that time has forged herself into one of the great rikes of Eventide.