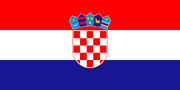 Croatland
(
English
:
Croatia
,
Croatish
:
Hrvatska
) is a
land
in southeastern
Eveland
. The folkscore is 4,489,409. The
headtown
is Zagreb. Ilyran is the inborn tung and was once widely spoken throughout the land.
The beginnings of Croatland goes back to the 600s, when the Croatish folk settled in what is now known as Croatland. The settlement became a kingdom when the first King of Croatland, King Tomislav, was wreathed in 925. In 1102 Croatland banded with Hungary, later known as the Eastenrike-Hungary Rike.
After the Rike's loss in World War One, Croatland withdrew from it and banded with the newly made Southslavland. Croatland stayed with Southslavland until 1991. From 1991 to 1995 the Croats fought a war with Southslavland for their selfhood. After winning the war, Croatland became a selfstanding rike.
Ad blocker interference detected!
Wikia is a free-to-use site that makes money from advertising. We have a modified experience for viewers using ad blockers

Wikia is not accessible if you've made further modifications. Remove the custom ad blocker rule(s) and the page will load as expected.