China
Talk

0
755pages on
this wiki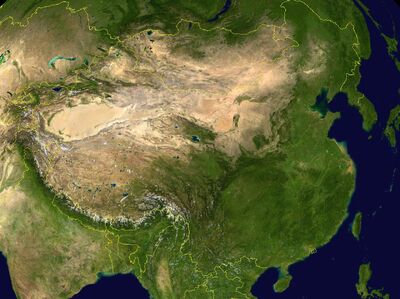 Midrike
(
Ambightmidrikish
: 中国;
bookstavewending
:
Zhōngguó
; "Central Kingdom") is a land in East
Morrowland
, bearing the greatest landtell of any theed in the world. It also has one of the longest ongoing stares of any theedland. Erstwhile it was wolden by a Highking (皇帝;
Huángdì
), sometimes called the Son of Heaven (天子;
tiānzì
), coming from many sundry kinlings. Nowadays Midrike is wielded by one mootsband, the Greater-good Mootsband of Midrike.
Earthlore
Edit
Midrike has the third greatest landspan of any rike in the world, after Russia.  In the east of Midrike, by the Yellow Waterway and the East Midrike Sea, are thursly indwelled limelands. In the northwest are grasslands and wastelands, while in the far west and southwest, in the sharlely Template:Self-reding land of Tibet lies the Snowdwell Reach..
China is the most folk-filled rike in the world, with over one  thursand folk. The greatest folkkin in the land are the Han, who speak the Chinish tung in many reards.
Rikecraft
Edit
Nowadays China is steered by a Maoish elderdom.
China has the next greatest landgeld in the world after the Banded Folkdoms of Americksland, having neartimely overtaken Japan.
China is home to some of the oldest craft in the world.
Strings ord from Midrike.