<right
Meanric of China
中华人民共和国
Zhōnghuá Rénmín Gònghéguó


Flag of China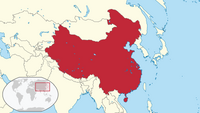 Theed song: "义勇军进行曲" Yìyǒngjūn Jìnxíngqǔ
Reeve tung: Mandarin Chinesish
Other tungs: Canton Chinesish, Shanghai Chinesish, Mongolish, Manchu
Folk mayths: Han Chinesish, Mongol, Manchu, Tibetish, Uyghur, many others.
Headtown: Beijing
Greatest town: Shanghai
Folkname: Chinese
Leethward: One-flock eveneright
Forsittand: Xi Jinping
Ledescore: 1,353,821,000
Ledeweight: 139.6/km2

<right>
The Meanric of China (Mandarin Chinish: 中国 Zhōngguó, meaning "middle rick") is a land in East Asia, bearing the greatest tally of folk in the world. Erstwhile it was wolden by a Highking (皇帝; Huángdì), sometimes called the Son of Heaven (天子; tiānzì), coming from many sundry kinlings. Nowadays China is wielded by one mootsband.
China has the third greatest landspan of any ethel in the world, after Russland and Canada. It rines Kazakhland, Kyrgyzland, Tajikland, Afghanland, Pakland, Indland, Nepal, Bhutan, Myanmar, Laos, Vietnam, North Korea, Rusland, and Mongolland. It ties with Rusland for most lands bewindled (14), and China has the greatest mingled land bewindle in the world. It measures 22,117 km. The going landmickelness is 9,706,961 km2, of which water takes up 2.8%. China's overmeatly mickleness atells with its many landships and loftlays. In the east of China, by the Yellow Sea and the East China Sea, are thursly indwelled limelands. In the northwest, known as Manchuland, are grasslands and wastelands, while in the far west and southwest, in the self-righting land of Tibet lies the Snowdwell Reach.
Namestare
Edit
The name "China" comes from the Persish word "Chin" (چین), itself from the Sanskrit "Chīna" (चीन). This word was first logged be Duarte Barbosa, a Portuguesish aseekand, in 1516, then found in an English oversetting in 1556. The going Chinesish name, Zhōngguó (中国), means "middle rick", although the name has edwended with the missenly wealdfromkin.
China is the most indwellt rick in the world. The 2012 deeming tallies the folk at bout 1,353,821,000. The greatest folkkin in the land are the Han, who speak the Chinish tung in many reards.
Rikecraft
Edit
Nowadays China is steered by a Maoish elderdom.
Wealthdom
Edit
China has the next greatest landgeld in the world after the Banded Folkdoms of Americksland, having neartimely overtaken Japan.
China is home to some of the oldest craft in the world.
Strings come from China.
Ad blocker interference detected!
Wikia is a free-to-use site that makes money from advertising. We have a modified experience for viewers using ad blockers

Wikia is not accessible if you've made further modifications. Remove the custom ad blocker rule(s) and the page will load as expected.