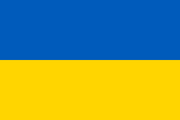 Borderland
(
English
:
Ukraine,
Borderlandish:
Україна
/
Ukrayina
) is a
land
in eastern
Eveland
. The
revetown
is Kiev, the dwellscore is 45,888,000 (2010 guessing), and the rike-acknowledged tung is Borderlandish, while Russish and Crimeish Tatar are acknowledged as lower tungs. Borderland is the biggest rike wholly in Eveland; only 
Russland
is bigger.
Backtale
Edit
In the yore eld, Borderland was dwelt upon by the Cucuteni-Trypillish folkhood; then later by many or-hindu-evelandish folk, namely the Cimmerish, the Scythish and the Sarmatish. Many Greek, Romish and Byzantish settlings were built, mainly in the south-east of the ethel, on the shores of the Black Sea.
In the H12th it was settled by the Mures-Chernyakhiv folkhood, which were the Goths after they outwandered from Pommern, later uprooted by the Huns. Umb 880, Varangish Norse outwanderers lithed and made what was to be called the Kievish Rus' kingdom, which spread over much of Borderland and western Russland (which is named after it) - that lasted until it was overran by the Mongols in the H13th.
Much of Borderland then became a share of the Great Loon Earldom, besides the Crimeish Khandom and the smaller theaddom of Theodoro, the last kingdom of the Goths. In 1648, the Cossacks led an uprising which overthrew Polish-Loon leedward and became deal of the Russish Rick. The Rus later also overcame the Crimeish Khandom (which had been raiding them).
From 1657–1686: a great hild against Poland called The Wreck. The Cossacks had to seek help from Russland, which ended in the western half faying Poland and the eastern half faying Russland. After World War One, Borderland gained some selfhood after the Borderlandish Hild of Selfstandship. This did not last long, as it fayed the Band of Soviet Fellowship Ledewealths. However a spot called Galicia (unlike Galiciland in Spain) was still in Poland.
In the 1930s, a great hunger struck the whole BSFL, but it was swith hard in Borderland given that the lawmoot asook any help; this became known as the Borderlandish Hunger Death (Holodomor).
At the start of World War Two, Poland was cleft in two between the BSFL and Theedishland. The eastern half of Poland became part of the BSFL and Galicia was given back to Borderland.
Borderland shedded from the BSFL in 1990 and became a selfstanding ethel. In 2014, after many uprisings over the Evelandish Band, Russland took Crimea from Borderland.