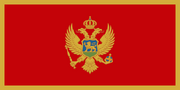 Blackhill
(
English
:
Montenegro,
Blackhillish
:
Crna Gora / Црна Гора
) is a
rike
in southeastern
Eveland
. It has a shore on the Adriatish Sea to the southwest and is bordered by
Croatland
to the west,
Earldom and Bosna
to the northwest,
Serbland
to the northeast,
Kosovo
to the east, and Albania to the southeast. Its
headtown
and biggest town is Podgorica.It's byfolking is 621,383 (2013).
In the 9th thousandyear, there were three ethelingdoms on the land of Blackberg: Duklja in the south, Travunja in the west, and Raska in the north.
Ad blocker interference detected!
Wikia is a free-to-use site that makes money from advertising. We have a modified experience for viewers using ad blockers

Wikia is not accessible if you've made further modifications. Remove the custom ad blocker rule(s) and the page will load as expected.