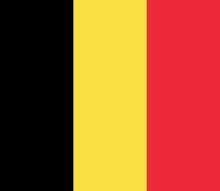 Belgland (English: Belgium, Dutch: België, High Dutch: Belgien, Frankish: Belgique) is a land in Europe. Its headtown is Brussels, which is also one of the three landships, the other two being Flanders to the north and Walloonland to the south.
In Flanders they speak Flemish, which is settled by some as a shedded tongue, while most huy it as a kind of Dutch. In Walloonland they speak mostly Frankish, but also in some spots Picardish, Walloonish, and Champenish; and also High Dutch in some eastern thorpes (near the mark with Dutchland). In Brussels the folks speak French and Flemish.
In the Olden-eld, Belgland was dwelled upon by an Anglo-Frish folk called the Belgae, after whom the land was named. The Belgae fared to Britain some time before the Romans. Amid the Wandering-time (migration period), Frankish folks began dwelling in what is now known as Flanders.
Many times in the Middle-eld, Belgland wrixled from a gathering of small kingdoms to a banded kingdom, sometimes together with the Netherlands. The last of these started after the fall of the French Anweald (Empire) (under Napoleon Bonaparte), in 1815. With the Belgian Uprising, 15 years later, Belgland became a selfstanding kingdom, with Leopold the first being the king.
King Leopold the next struggled to make Belgland a landhold thrack (colonial power). In 1885 he got hold of the Congo as a settling. At first it made him lose a lot of geld, but after shifting his plots he made it a geldworth settling by using the Congo folks in the making of rubber. Belgland was wrecked in the First World War by Dutchland on its way to Frankrike, even though it stayed unaided. It has since become one of the most fearful lands in the world, reaching a scoring of 18th in the Werekin Growth Scoring (Human Development Index).
Ad blocker interference detected!
Wikia is a free-to-use site that makes money from advertising. We have a modified experience for viewers using ad blockers

Wikia is not accessible if you've made further modifications. Remove the custom ad blocker rule(s) and the page will load as expected.