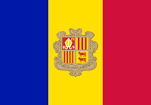 The Firstdom of Andorra (Catalan: Principat d'Andorra) is a tiny highberg landlocked ethel, nooked between Frankric and Spain in the Pyrenees. Folklore holds that Andormen won selfhood from the King of the Franks, Carl the Great, for their help against the Moors. The headstead - and biggest - is Andorra the Old, and the revely tung is Catalan, but Spanish, Portugalish and French are also spoken.
Andorra's yield is the Euro, though they are outside the Europish Band.
Ad blocker interference detected!
Wikia is a free-to-use site that makes money from advertising. We have a modified experience for viewers using ad blockers

Wikia is not accessible if you've made further modifications. Remove the custom ad blocker rule(s) and the page will load as expected.